To the OHL Community

Registration is open for OHL. We are delaying the start of the season 1 week as we are short 10 skaters to get to the 40 skaters needed to make 4 teams. Four goalies have signed up so we are filled for goalies.

If you are interested in playing, please sign up soon.

As we are not having OHL on Sunday, we will have a drop-in on Sunday at 6 pm and a second at 7:30 pm if there is enough interest. Please let me know if you are interested.

If you have any questions you can contact me at my email: ruvolo13@att.net

Thank you all!
Peter
Registation is open. Click the sign up link above to sign up.
To the OHL Community

The current pandemic will likely not resolve soon but we need to move forward. We will start the OHL Summer season on Sunday July 12th. The season will be a short 8 game season as we realize many of you cannot play due to personal situations to safeguard your loved ones. So until we get back to normal, we'll run short seasons. Here are details:

The rink is limiting teams to 10 players so we will reduce games to 1 hour. Cost per game remains the same. The cost for skaters will be $210 and for goalies $160. Games will likely have a 30 minute ice cut to optimize social distancing. I will ask the rink to start registration as soon as possible.

If you have any questions you can contact me at my email: ruvolo13@att.net

Thank you all!
Peter
Pete will be keeping his drop in information here. It will allow him to have a dynamic list and information about upcoming drop ins including the roster or whatever he needs to communicate.
There are open spots for the 6/21/2020 7:30 PM drop in. Email Pete Ruvolo for more infomation. $20 up front by paypal.

Also Dan Pata's Tuesday night C league is starting up soon. They still have a few spots open. You can send him an e-mail with any questions.
Sorry for the delay in a rink update. Here is what I can tell you all.

We will not finish the current season. We will arrange refunds for the current OHLplayers. Current plan is to wait to start the new season when we are able to run OHL as it was pre-pandemic. Hopefully the hot Houston summer gives us some relief. If the wait seems too long we may arrange for a modified season but it is our hope we can get regular OHL back on track in the not too distant future. In the meantime I will set up drop-ins during OHL Sunday hours. The drop-ins will be $20 for 20 players for 1 hour. I will schedule these to start on June 7 if we have enough players. I will need folks to PayPal me in advance so I can rent the ice.

I will confirm with the rink tomorrow to confirm the drop-in times but I can set up the sessions for next week if folks are interested.

I appreciate everyone's patience. I will be back in mid-June so I am looking forward to skating with you all then.

Very best to all,
Peter
Game On! We are back in business beginning June 5th at 5:00 PM. Note that the games are now 100 Minutes apart instead of 85 minutes. There is also a list of new rules to allow us to play. If you have any questions e-mail Caren Bell

Players come dressed as locker rooms are closed.
Face masks worn at all times except on the ice.
Players must social distance at all times including the ice.
Players must sanitize all gear before coming to the rink each day. Wash soft gear and wipe hard gear with sanitizer.
White board will assign seating areas for distancing.
We are postponng the season during the coronavirus pandemic. We will pick it back up as soon as we can.
As of now it's still game on this weekend.
The draft is complete. Check the rosters and schedules for your game times.
The draft is at 6 PM tonight the rosters and schedule will be updated late tonight.

Dan Pata's Tuesday night C league is starting up this Tuesday at 7:25P. You can sign up Here. They still have a few spots open. You can send him an e-mail with any questions.
The drop in times are posted Here.
Registration for the OHL is now open and it is a new registration system on the USA Hockey website. Please use the sign up link above.
Congratulations to the Starts for winning the Stonely cup over the Oil Kings. It was a goaltending battle that looked to be a one zero game. Then Ryan Masters scored two goals late in the 3rd period for the Stars. Marc Tushnet used a burst of speed to bring the Oil Kings back to within one with a shorthanded tally. Two empty net goals made the final 4 - 1 with the Conn Symons cup going to Ryan Masters. Pete, Cash and Anthony have won three in a row. Pete and Cash won it a season before the streak to so that is 4 of 5 for them.

We added a hall of past champions. There is a link in the banner above.
A heads up to let everyone know Dec 15 drop-ins are full and there are only 7 spots left for Dec 8 and 6 spots left for Dec 22. Please pay or make payment arrangements by Dec 1.

We have a link for Pete's PayPal to make paying easier so you don't need to look him up by his e-mail address.

Here is a link to the Drop-in Schedule and rosters. Please check the rosters as we will update it as the sessions fill.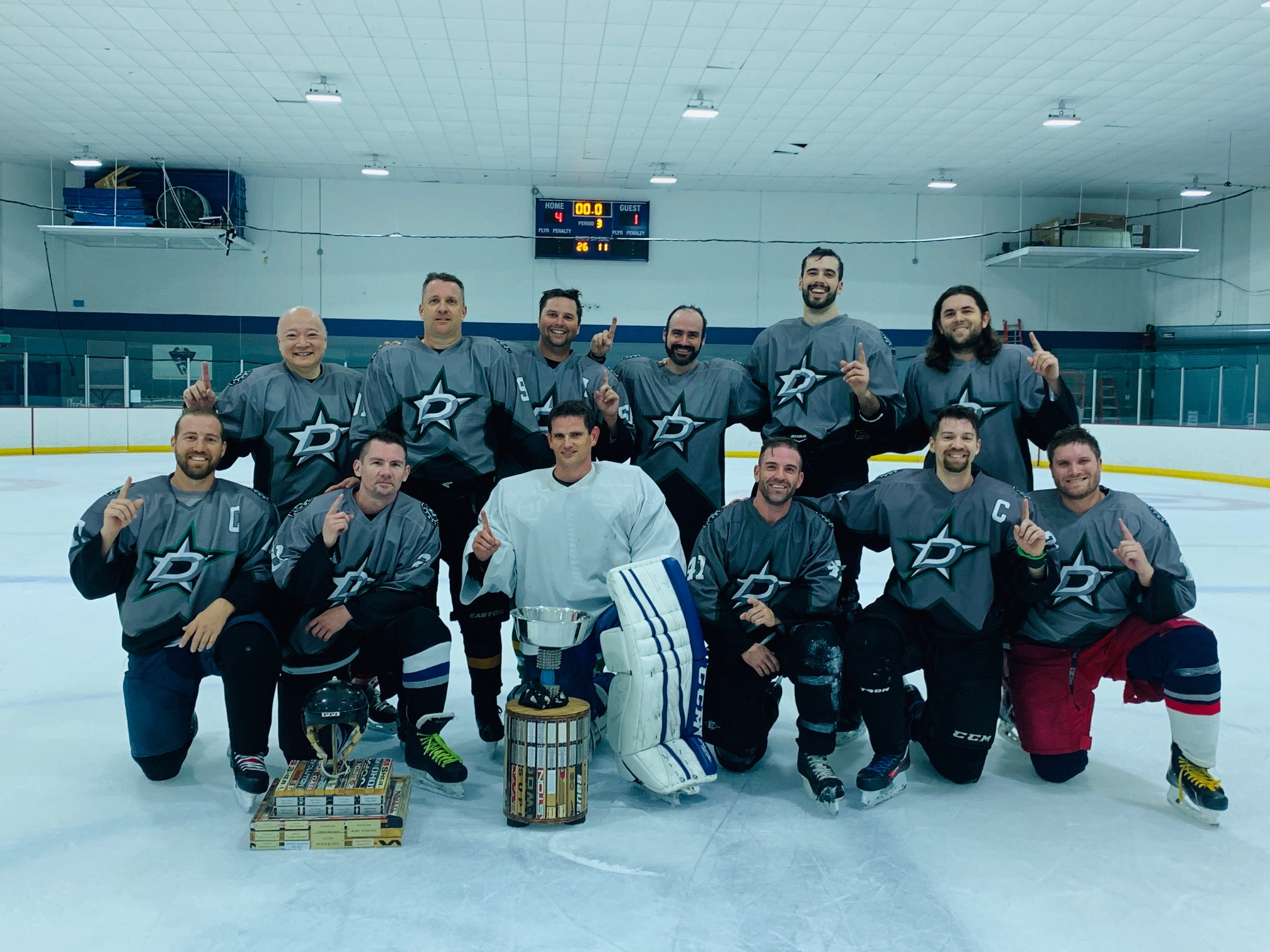 November 2019 Champions - Stars
Contact us if you have any questions.